Introduction
Flexible and configurable tools are important for day-to-day performance. Saving emails to Notion can be a convenient way to keep information in one place and share it with other people. It also makes working with emails a bit easier, helps to categorize them, store them separately and ease your inbox. With a little help from automation, you can set up rules for your email app to save important emails with attachments directly to the Notion databases.
Connect Notion database
NotionSender allows you to save email messages from Gmail, Apple Mail, Outlook, or any other email provider. To receive emails in the Notion, we need to create the email address for your Notion database. To do this, you need to log in to the NotionSender app and connect your Notion workspace. Connecting your workspace allows NotionSender to access your database and save emails. Once the workspace is connected, you will see the list of the databases that can be used for receiving emails. Find the database you want to save your emails to and let's configure it.

Create an email address for the Notion database
Click the "Create Inbox" button and NotionSender will generate the unique email address for your Notion database. After you create the email address, any email sent to this generated email address will be saved to the Notion database with email content and some properties.
NotionSender supports 2 ways of saving email content in the Notion:
Plain text — content will be saved as regular text. This may affect how the email looks content looks in the Notion because not all emails can be converted to the Notion format nicely. Use it when you want to save regular text emails, not newsletters or other rich format emails with images.
Widget (embedded preview) — content will be saved as an interactive widget. This way your content is still visible and correctly displayed in the Notion, but data is not notion blocks and cannot be customized manually. Good for saving newsletters or other emails with images and tables.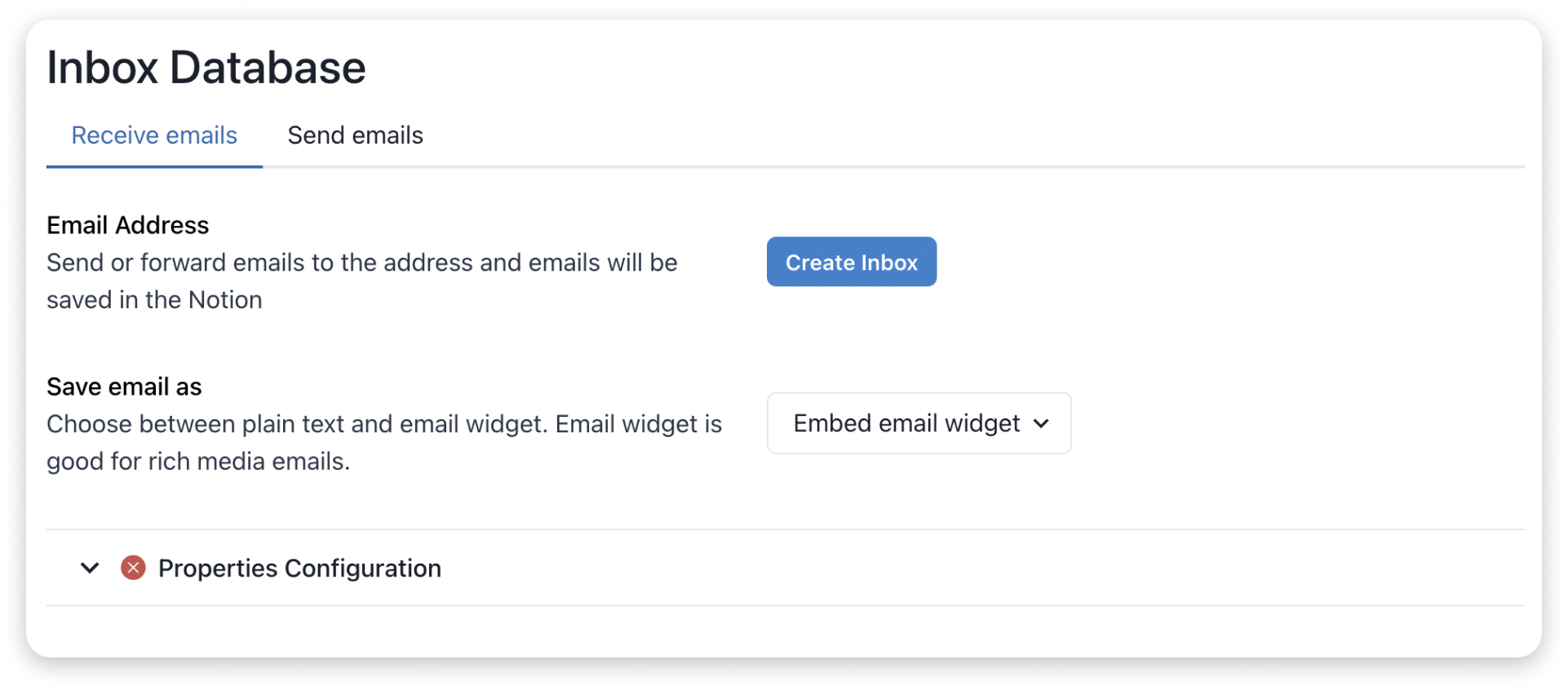 Configure database properties
If you want to capture additional data like attachments, sender's email, or time — we need to configure database properties. Find the properties' configuration settings at the bottom of the configuration card. The property configuration will show the necessary configuration steps and which fields are used to save the information. Alternatively, you can use the "Autoconfigure" button if you want to configure all available properties automatically.
Result
You have an email address for your Notion database. With the address you can:
Send emails to Notion any way you like, using TO, CC, or BCC option.
Configure auto-forwarding rules with filters for your email app and automate the email routing.
Use the email address as a subscription address if you need to share the emails or want to save emails directly to Notion.
Save email attachments to Notion